Costa Chica is a southmexican beachressort on the Pazific coast of Oaxaca. Geographically Costa Chica extends from Acapulco south to Puerto Angel. Beside the surfer paradise Puerto Escondido tempt/attract specially the charming bays of Ventanilla, Mazunte, Zipolite and Puerto Angel.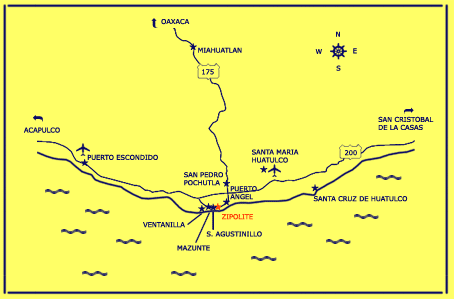 Traveltime
Costa Chica is located in a tropical area which brings mostly hot days and warm nights. A permanently light breeze from the sea helps with the heat and there is no wintertime like in the northern hemisphere.
The main season on all mexican beaches is in the winter months December, January and February. Normally between October and May there is no rain. If it does rain, it is light, lasting 4 - 5 minutes and makes you smile for a moment or hoping in vain for real rain. In May the rainy season begins when there are a few showers every couple of days. The surrounding hills get green again after starving in the dry period - a very nice natural spectacle. Autumn is special because it combines the smallest number of tourists and the best weather conditions. Costa Chica is also a wonderful place to stay over pre-christmas-time and celebrate the festive days.

Weather maps:
Phases of the moon:
Questions? Send a e-mail to ...