A Zipolite mystery
The sun swallowed the night with a flurry and a self congratulary laugh. Once again it had defeated the darkness.
The morning began as any other – hot, windy and empty streets. People slept everywhere, either to forget the night, before or to remember the day ahead.
Except that is for Inspector Jean. He sat drinking his Italian coffee and thinking about Sicily. The café at which he sat was known locally as, and the sign on the wall announced that it was, "The Meeting Point". It lived admirably up to its name as Inspector Gerald came bouncing down the street.
"Morning Inspector" shoutetd the hunched figure of Inspector Jean. Inspector Gerald looked concerned. Inspector Jean had a nose for such things. A roman nose he liked to call it; others saw it as a nose that was tired of sniffing.
"A wife has gone missing" Gerald announced as he swing into his seat.
"Hm, i thought so", said Inspector Jean not thinking any thing of the sort.
"Yes, yes", spluttered Inspetor Gerald. "It happened at 'La Puesta'".
"Ah yes, a fine discotequearia that i used to frequent when i still had my dancing shoes." Inspector Gerald starred at Inspector Jean's feet a little too long. He tried to imagine Jean dancing, he did, and laughed a crazed Hitchcockian gaffaw.
Inspector Gerald is crazy thought Inspector Jean. He made a couple of mental notes; one, to tell the chief to take Inspector Gerald´s gun an his badge; and two, to start dancing classes as soon as possible.
"Who is this so called wiff?"
"Wife!" Inspector Gerald corrected
"Yes, yes wife – sho is she?"
"Well she´s my wife."
"Ah ha, just as i thought" said Inspector Jean not thinking anything of the sort yet again.
"And what are you doing here then?" enquired Inspector Jean.
"Well this ist the 'Meeting Point'."
"Yes, and?"
"Well, the 'Meeting Point' is known throughout Mexico for being the place where lost dogs, and lost wives and up."
"Ah ha," said Inspector Jean for no apparent reason at all.
"Did she have any distinguishing characteristics?" continued Inspetor Jean in a typically Detective-like manner for which he was very pleased with himself.
"Well she liked the Monty Python song 'sit on my face and i'll tell you i love you'."
"Dont't we all!" interrupted Inspector Jean.
"Yes, and she had red hair and spoke German."
Inspector Jean geban to look worried himself when he realised that all missing wives in Zipolite had red hair, liked the almost religious Monty Python song, and spoke German.
He went pale and quiet for several moments before exclaiming "I CAN'T DANCE!"
"Yes? And?" probed Gerald.
Jean had gone red after his unprofessional outburst.
"And" he continued "my red-haired germanic wife has also gone missing."
Somewhere in the distance a piano played the background music for a mytery that was just beginning: Da da, da da da, da da!
To be continued ...
Read next week how:
Inspector Jean bays new dancing shoes;
>
Inspector Gerald hides his badge in the arse of a red-feathered chicken;
And how in some obscure Mexican law all lost wives must speak German and have red hair.
To be discontinued:
Find out about Inspector Gerald's plan to purchase 51 % of shares in "The Mexican Locksmith Association";
Laugh out loud as Inspector Jean finds Inspector Gerald's badge;
Be confuse when all red-haired German speaking women are placed in an identity parade;
A story by Jean Bonnin (former Inspector) – present day keycutter and chicken trainer.

See the scan of the original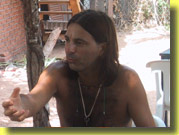 Jean Bonnin, lives in Great Britan/vive en Inglaterra
The detective novel "A Zipolite mystery" has been written in Zipolite in may 2003.
La revista criminal "A Zipolite mystery" estaba escrita en Zipolite en mayo 2003.
***
This page gives space to every type of art in certain circumstances: Either the art is created during a stay on the Costa Chica or it concerns the region.
Send your poems, fotos of your paintings or sandcastles, whatever you created to:
Este pagina da espacio para todos tipos de arte con la condición que el arte estaba nacido durante una estancia en la Costa Chica y unos de sus playas o se refiere a este región.
Mándenos su poemas, fotos de sus pinturas o castillos de arena, lo que sea a: